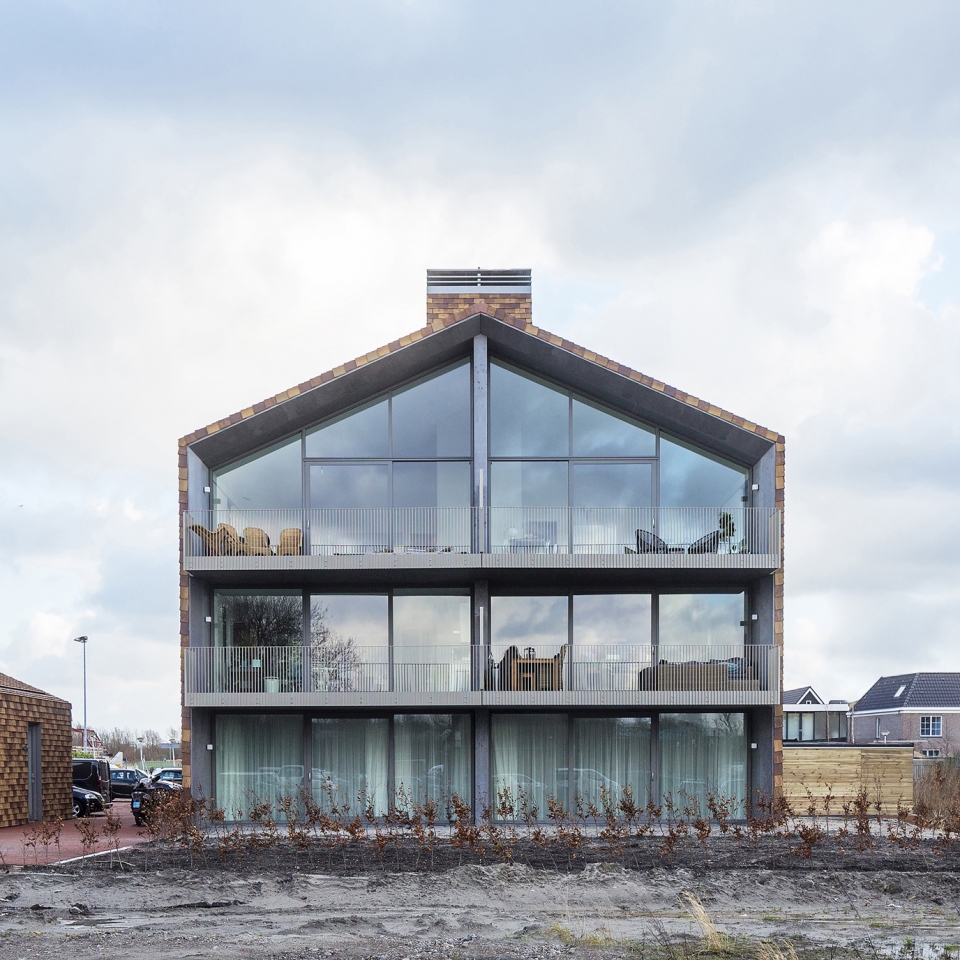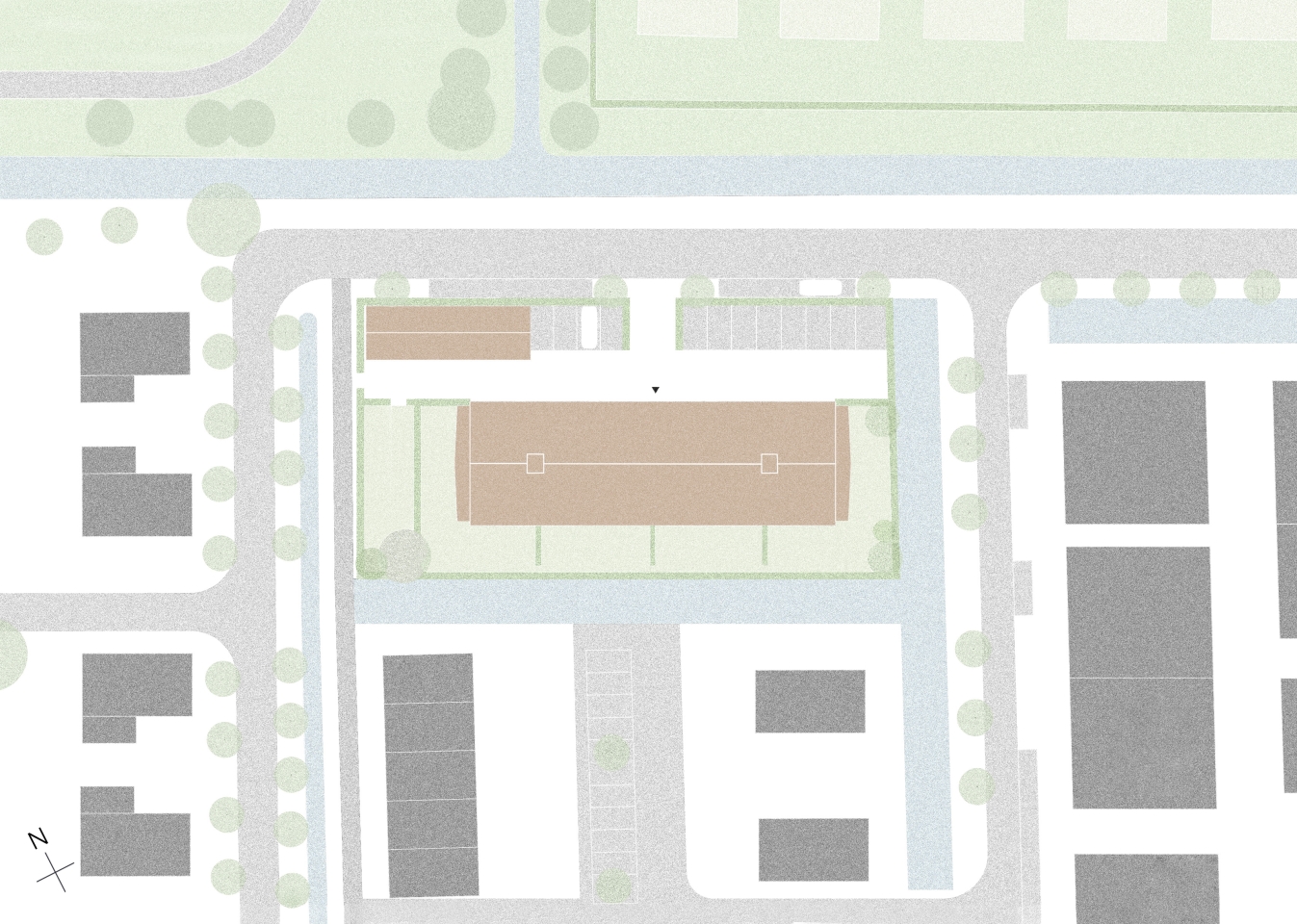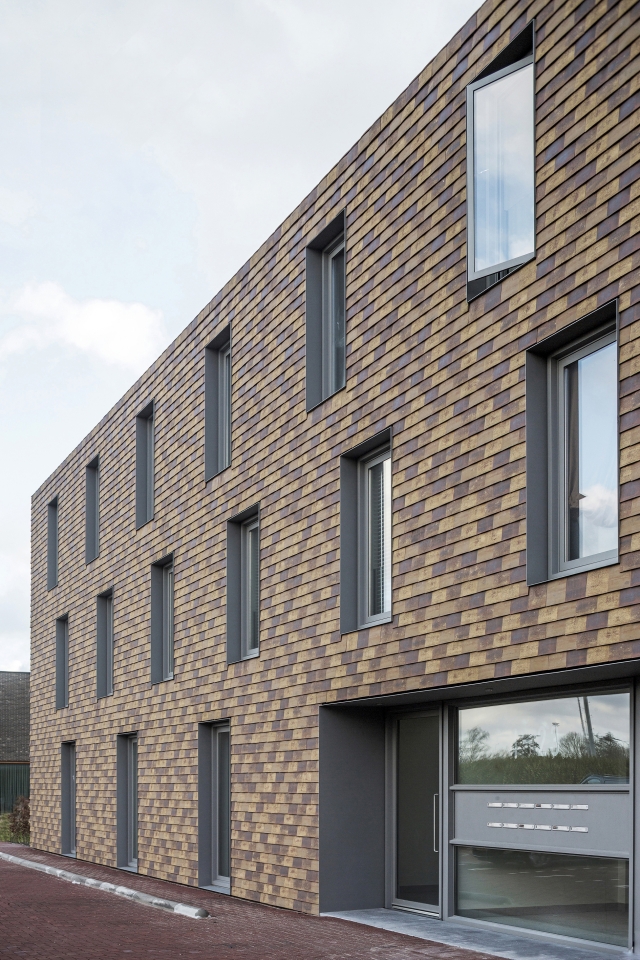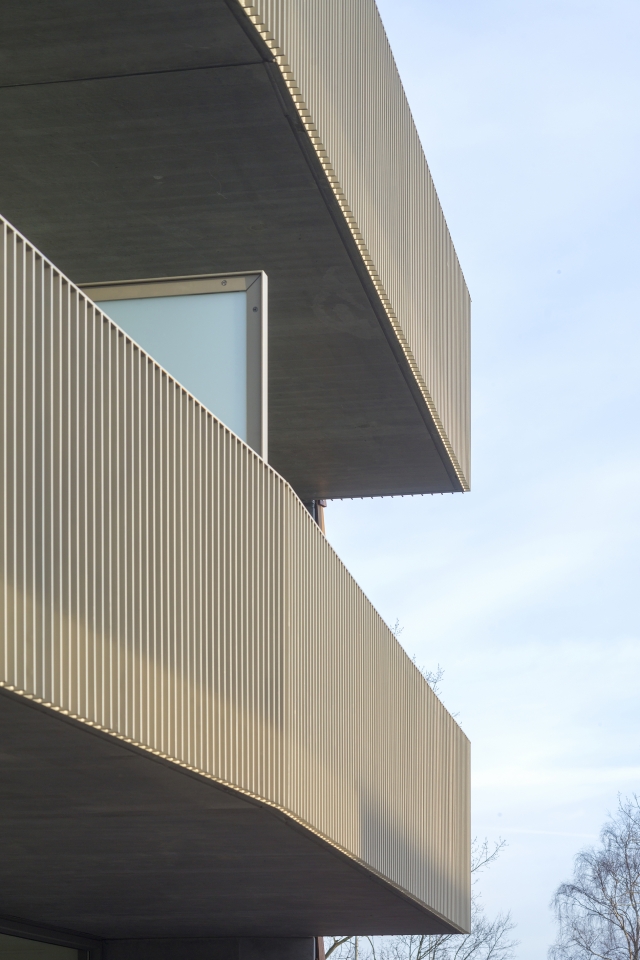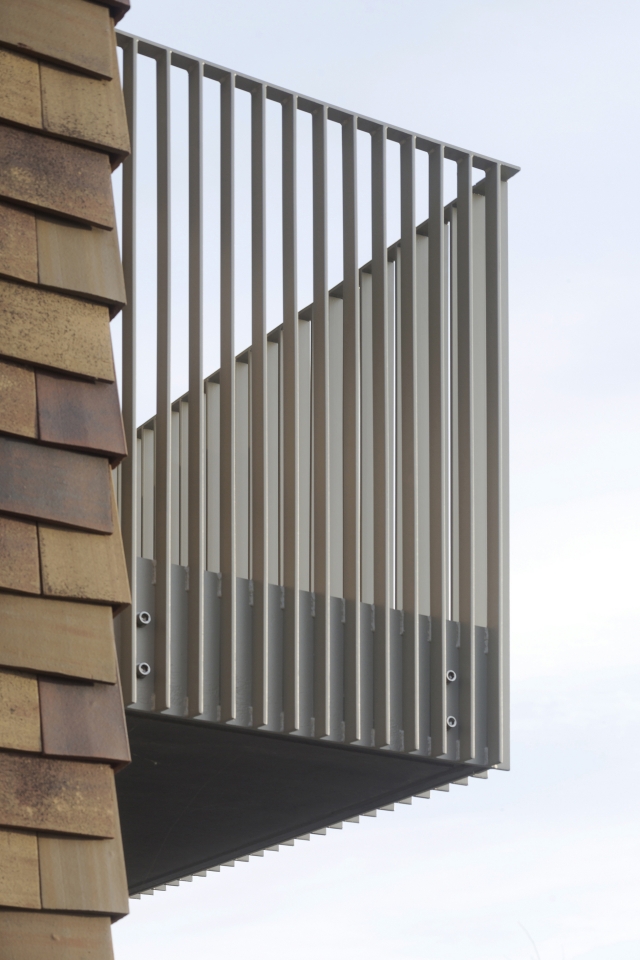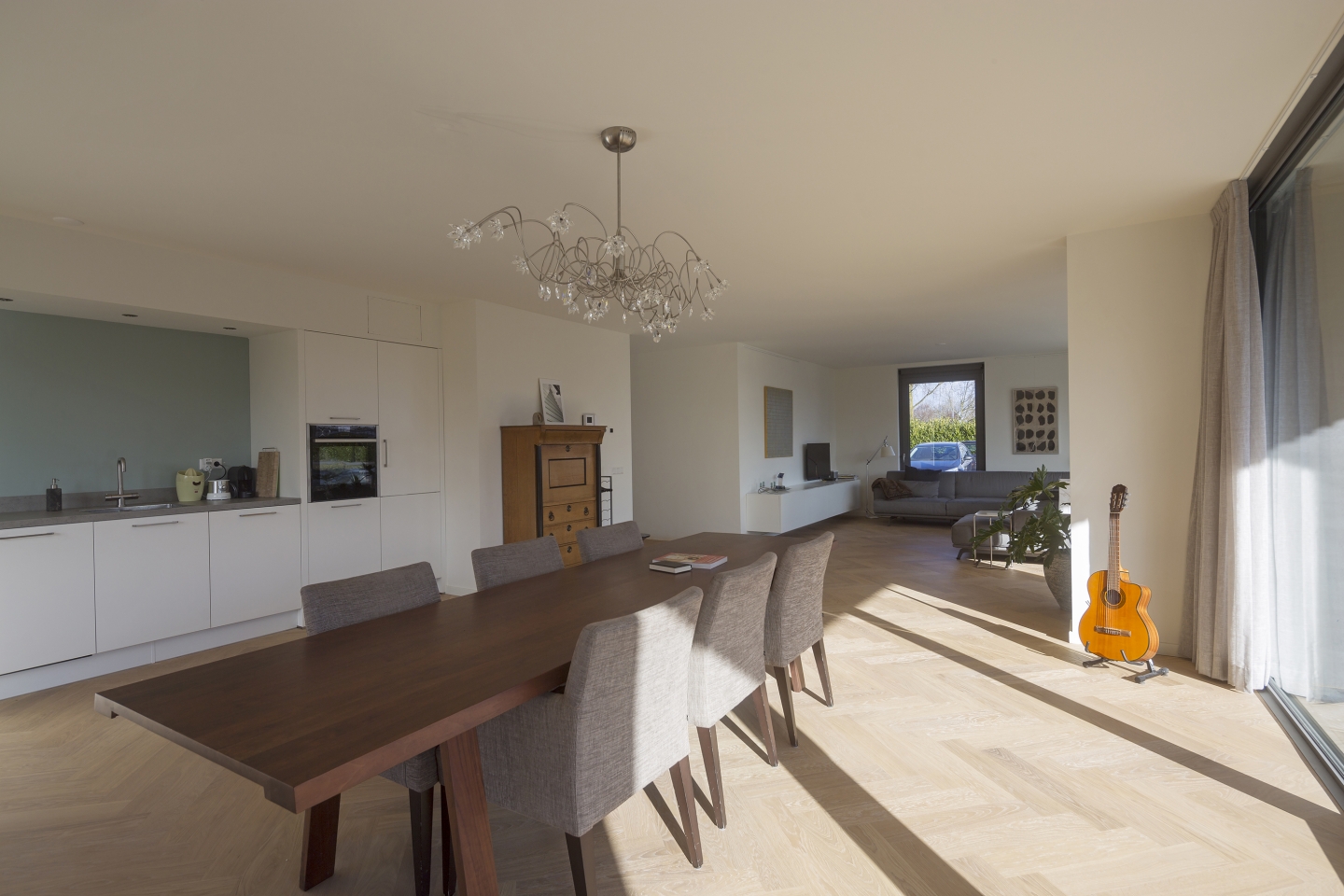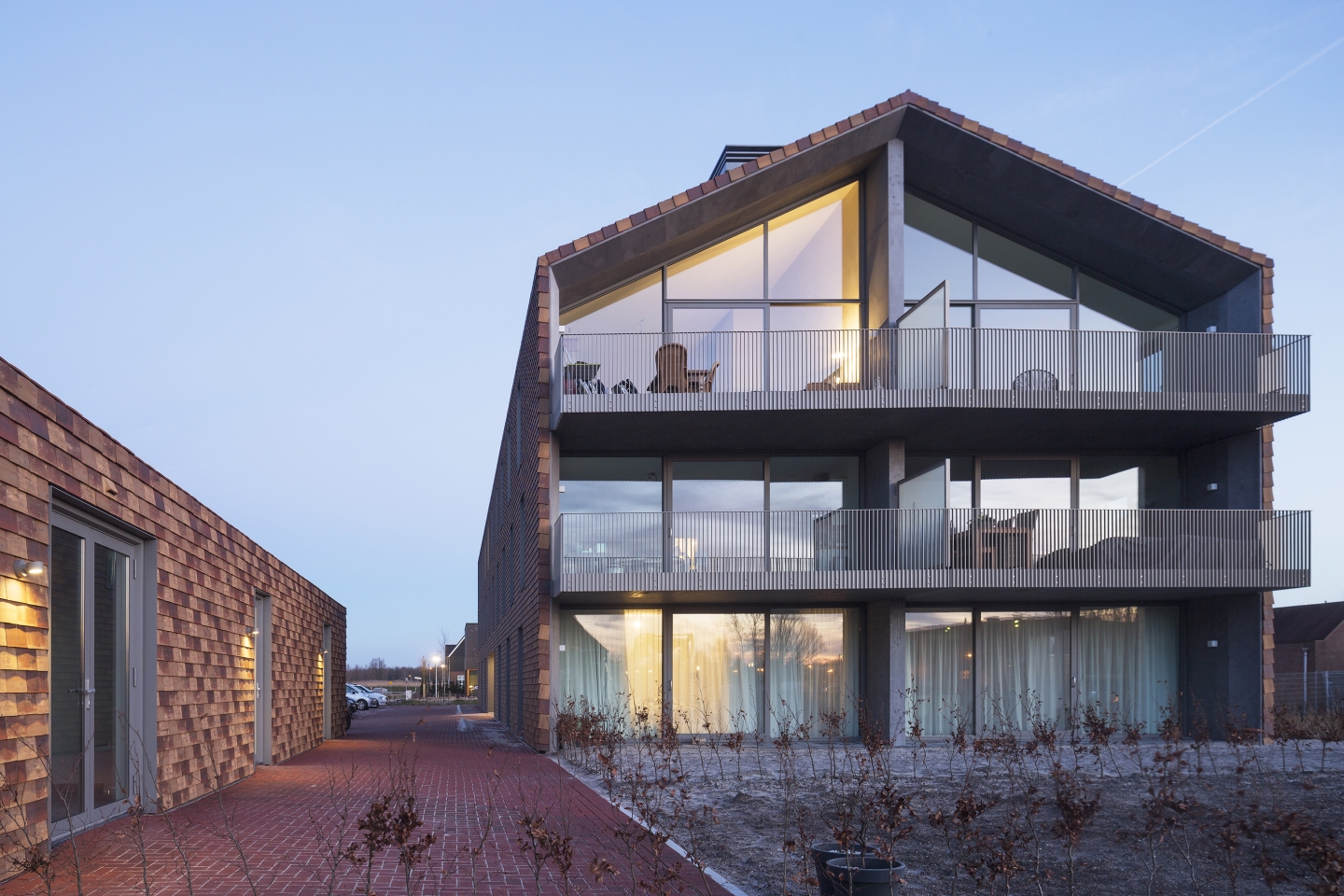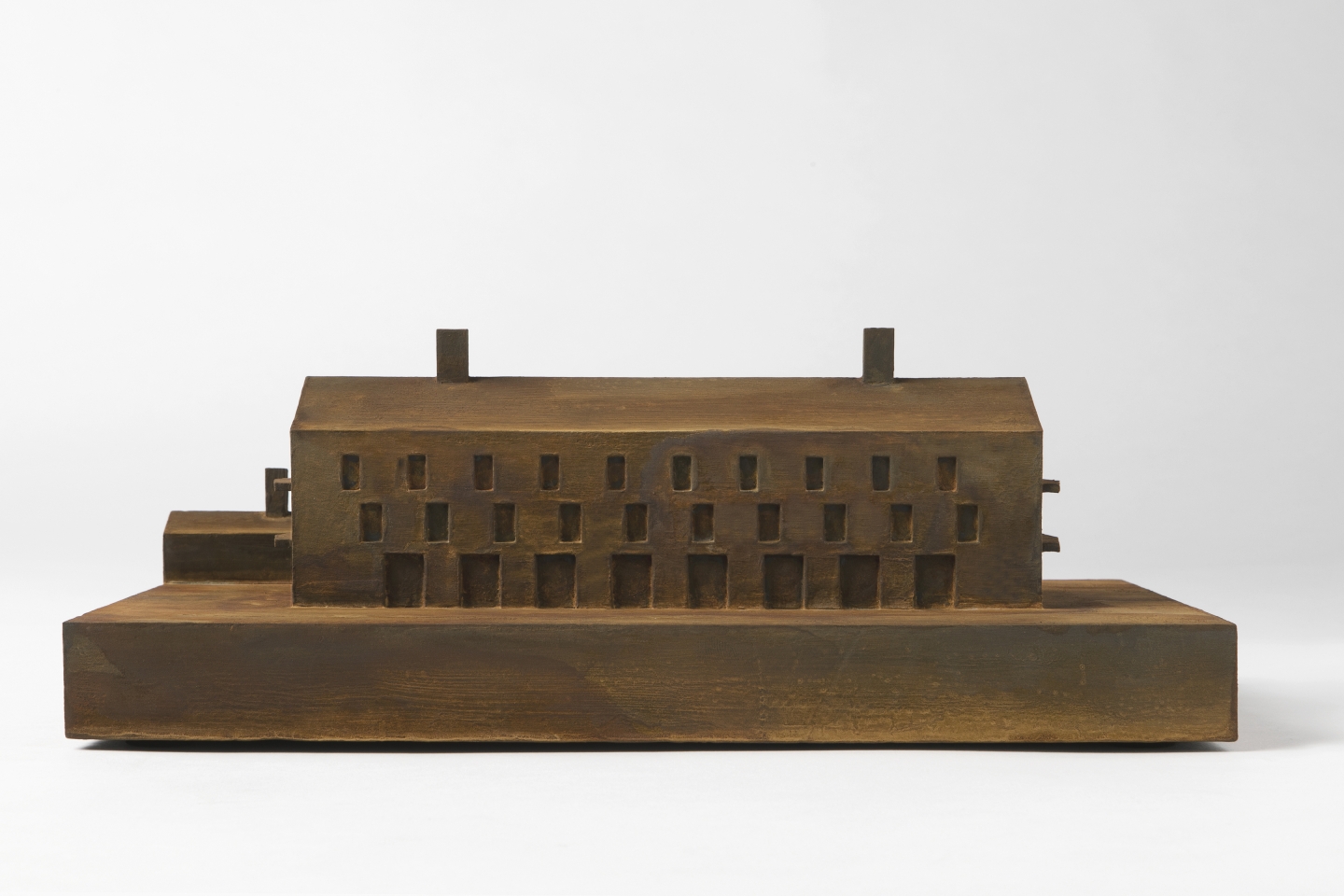 084 / HOMESTEAD / DIEMEN
A 'residential farm' with 12 owner-occupied apartments and a collective yard and garden house has been realized in Diemen on the site of a former organic nursery belonging to a care organisation. Located on the edge of a new suburban residential area, the property is also bordered by a sports field, a railway line, the Weespertrekvaart canal, and the nature reserve along the banks of the peat river Diem. The design principle was to realize an elongated volume with a clear relationship with a nearby monumental barn. Several specific design choices were made to emphasize the idea of ​​an agricultural building. The outdoor areas of the houses are placed on the ends of the volume, which also form fully glazed facades. The roof resembles an all-enveloping 'cloak' that is fully draped over the volume. Two chimneys further emphasize the building's rural character. Parking takes place on site. In the yard beside the collective vegetable and herb garden, there is outbuilding – identically materialized as the apartment building – with bicycle sheds and a shared garden room. The yard is fenced off from the public road with a red beech hedge.
The architecture has been carefully elaborated with refined and crafted detailing. The facades, roof and chimneys are designed as one continuous bent casing, which is clad with French ceramic slates in earthy tones – a subtle reference to the ceramic attributes of the market garden that was once located here. The roof surface is fitted with concealed gutters and the rainwater drains are similarly hidden away behind the facade. The facade surfaces are fitted with aluminium windows that open upwards on the upper floors.  The frames are set in sheet steel frames and are fitted exactly to the façade skin's slate size. Photovoltaic panels are recessed into the roof surface, which means that the building meets the requirements for energy performance. The ends of the main volume are made of dark pigmented prefab concrete frames in which the balconies are included. The slates fold around the bevelled concrete frames and thereby highlight the archetypal building contour. The facade openings to the balconies consist of facade-filling aluminium sliding doors. The cantilevered, slightly sloping balconies are finished with subtle strip steel fencing.
Project data

Apartment building
Joop Niemanslaan 1-23, Diemen
Design–execution
2015–2017
Program
12 owner occupied apartments, communal garden room, collective garden and parking lot
Gross floor area  
1.688 m2
Project team  
Marcel Lok, Sharon Sportel, Richard Proudley
Client
Building4you Developments
Contractor
Van Den Hogen Bouwbedrijf
Structural engineer  
De Ingenieursgroep
Building physics advisor
S&W consultancy
Photography
Luuk Kramer, Tim Stet (model)