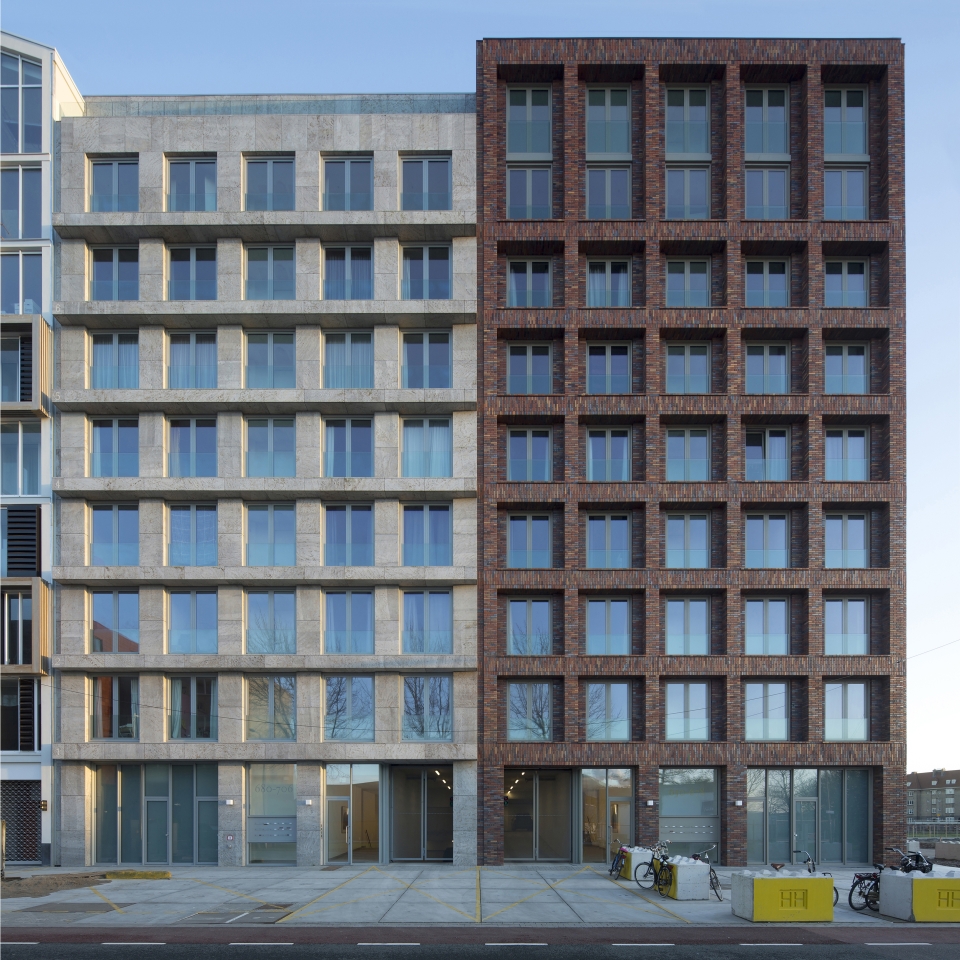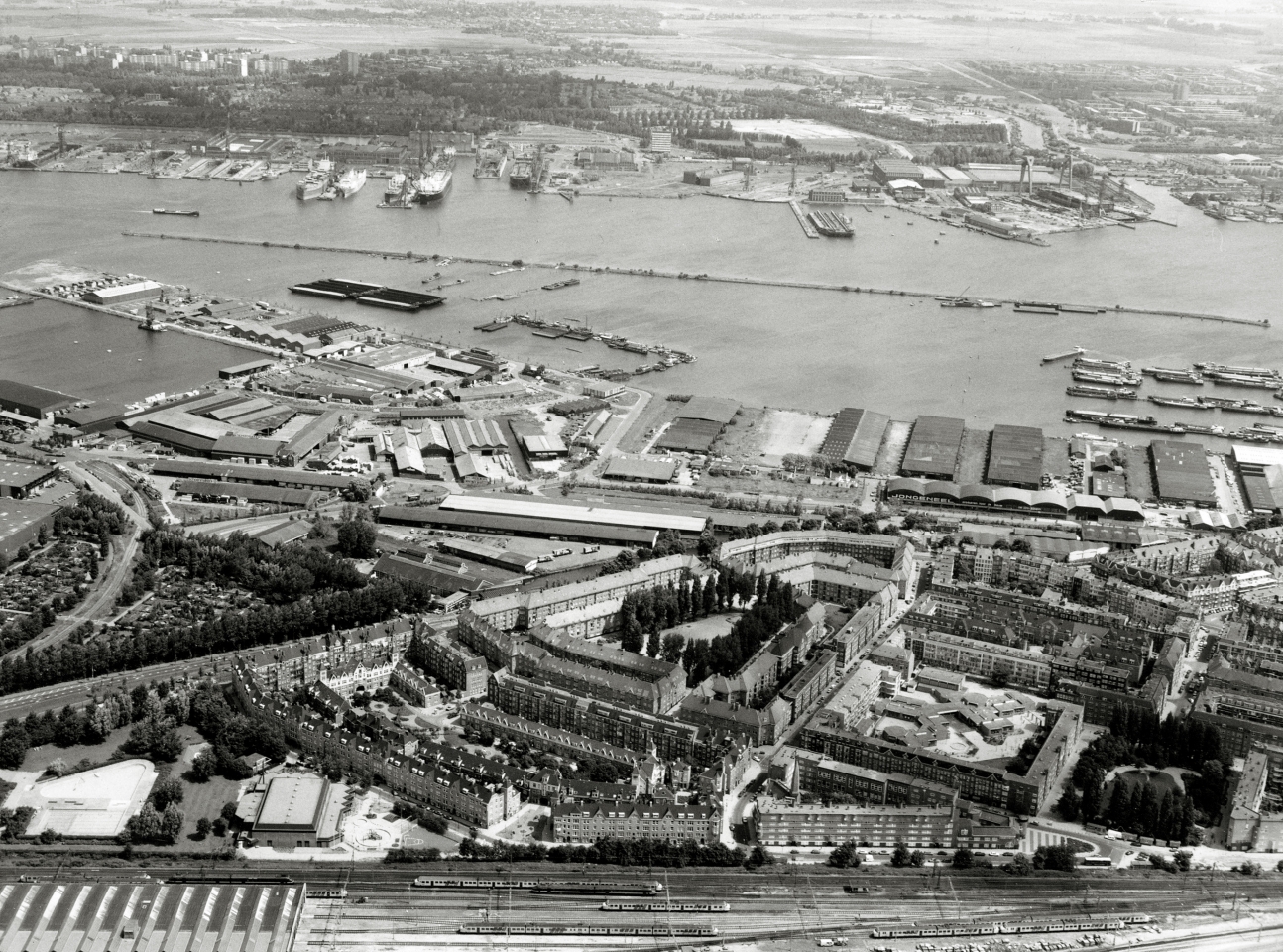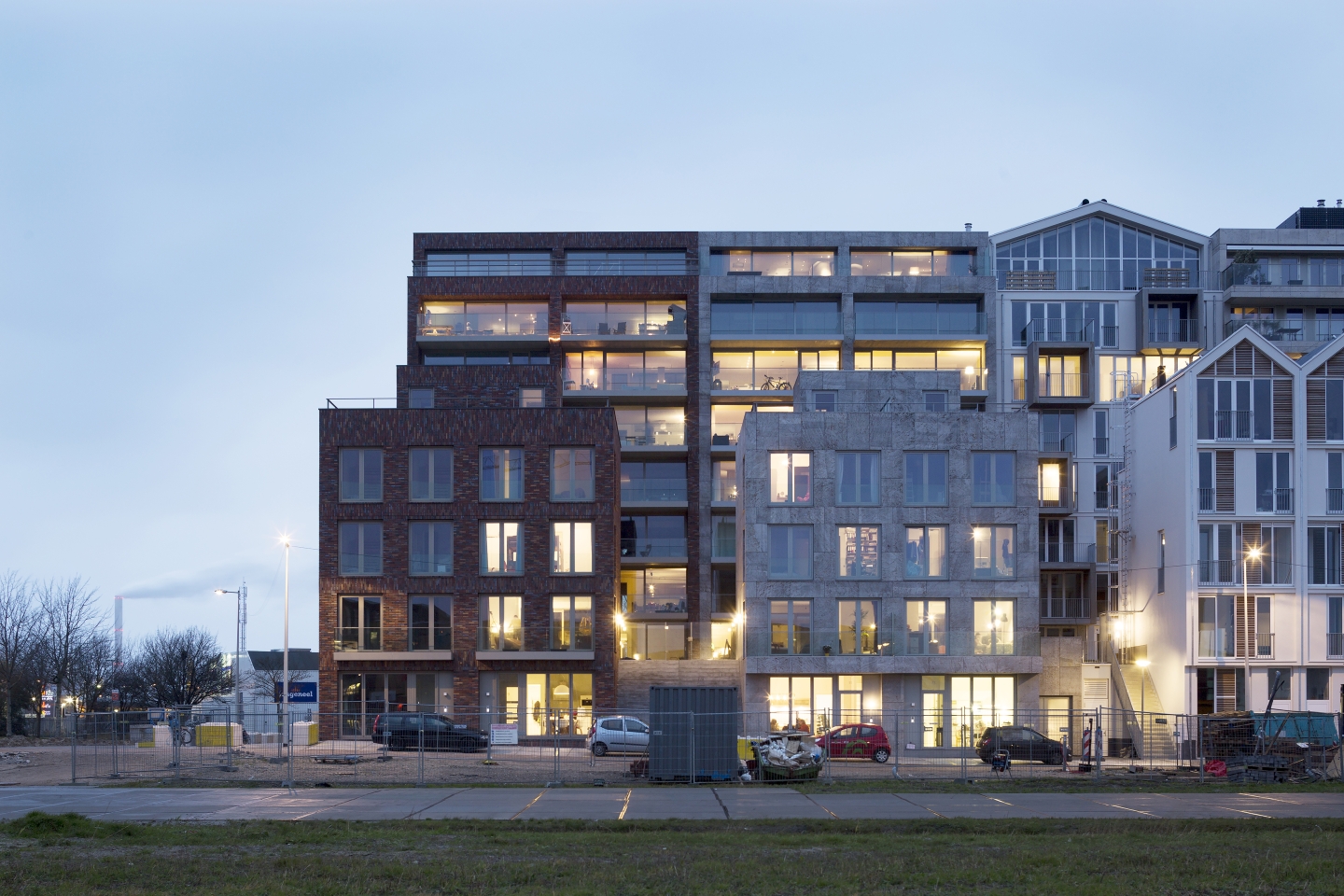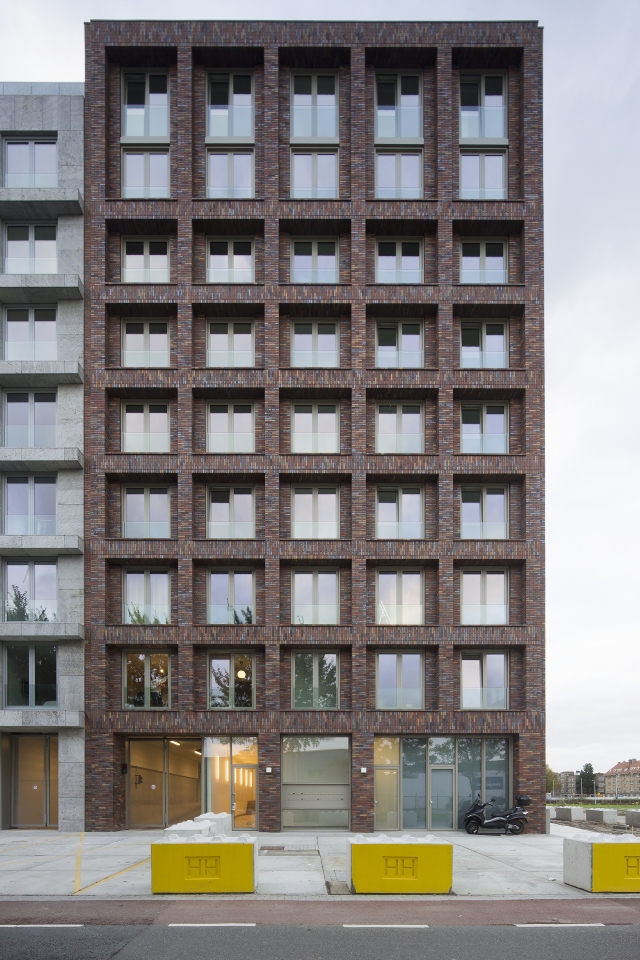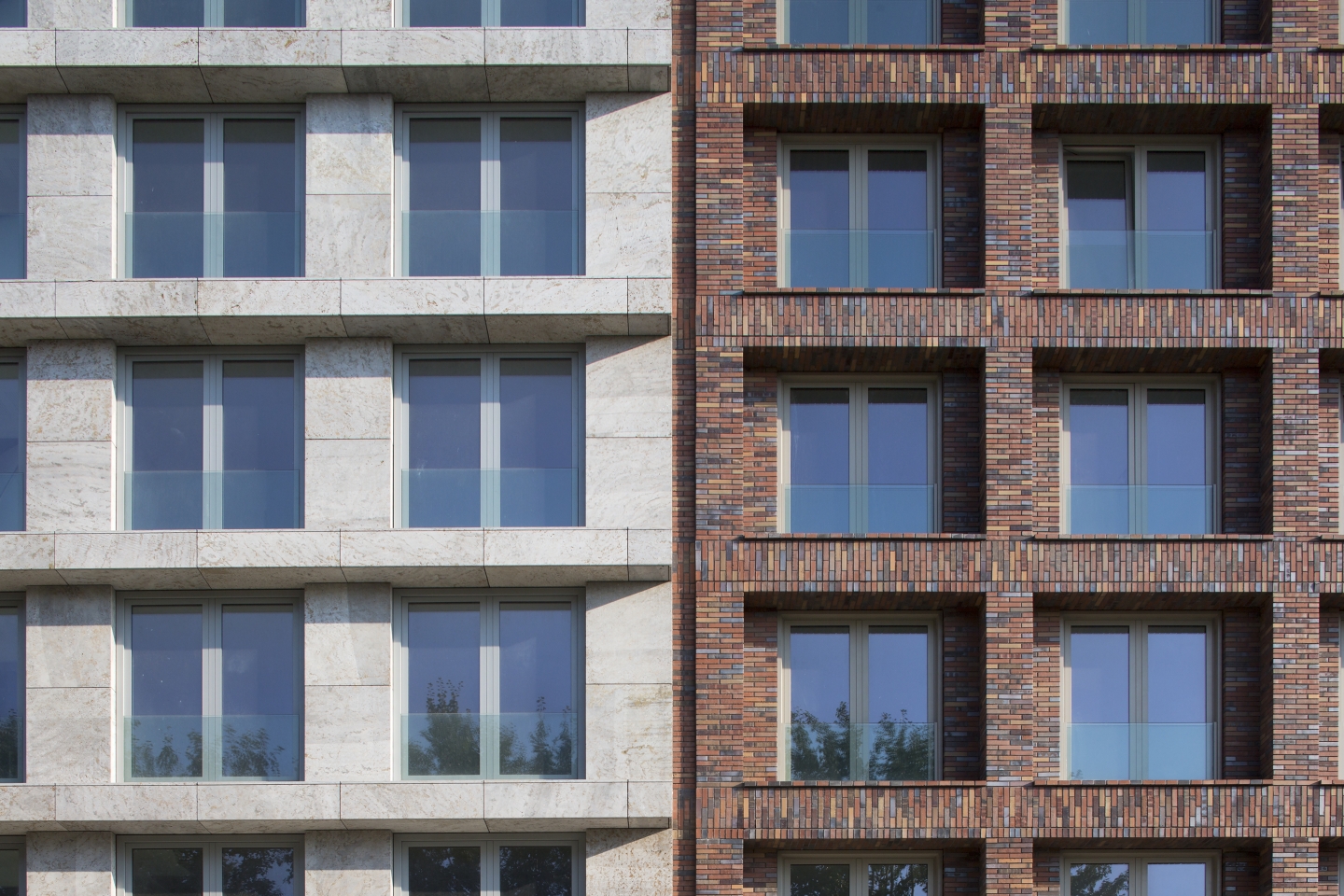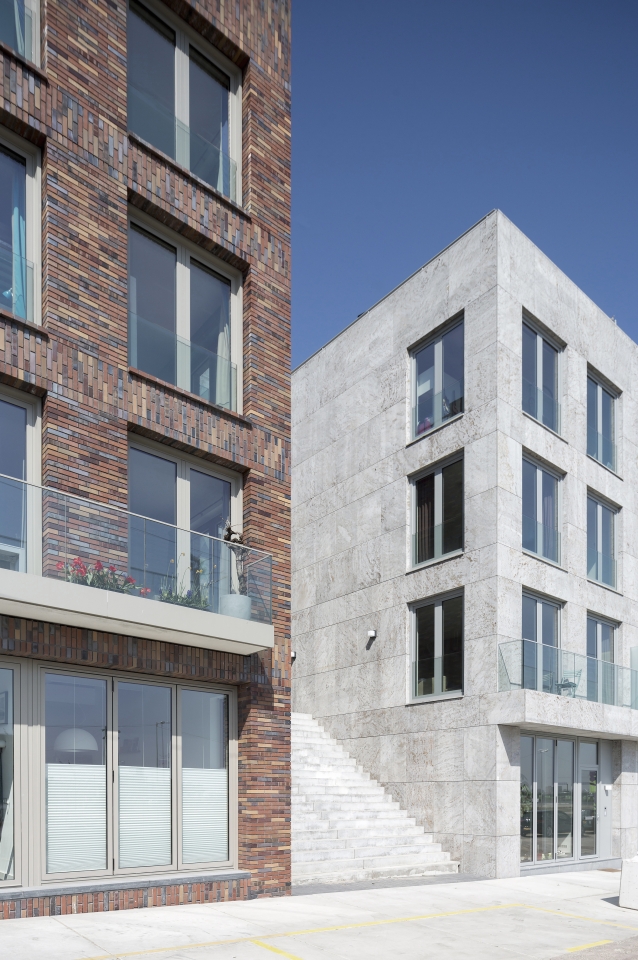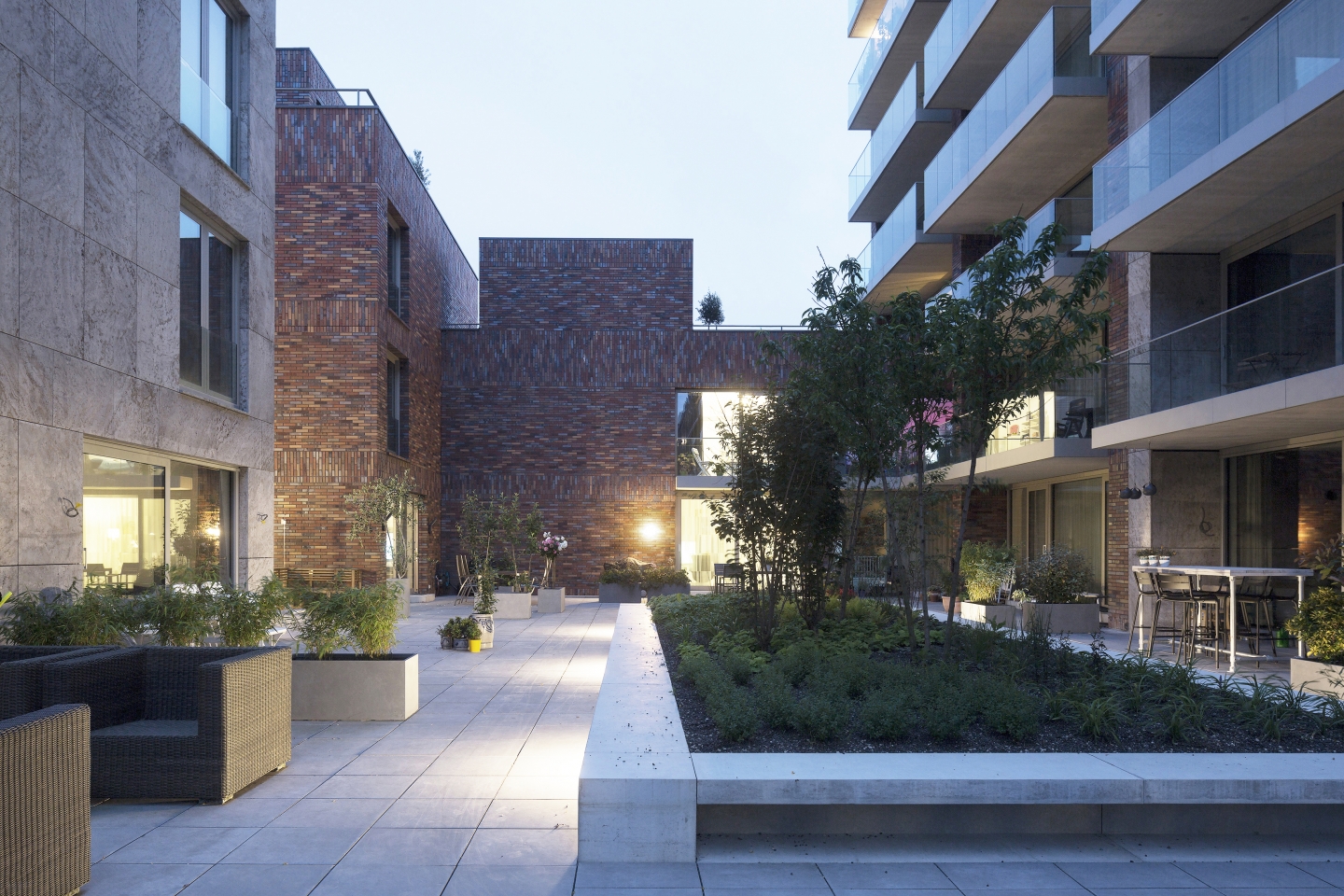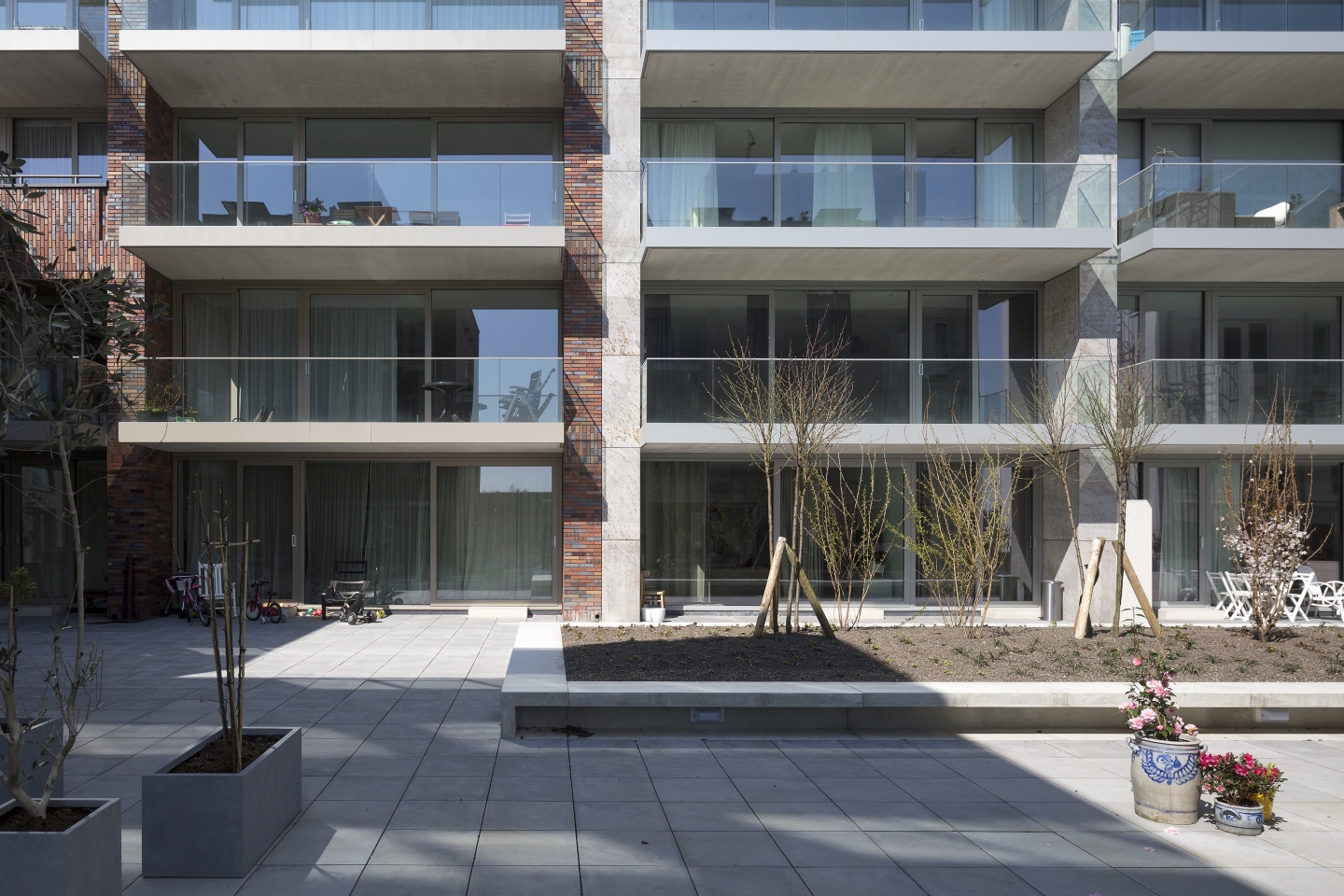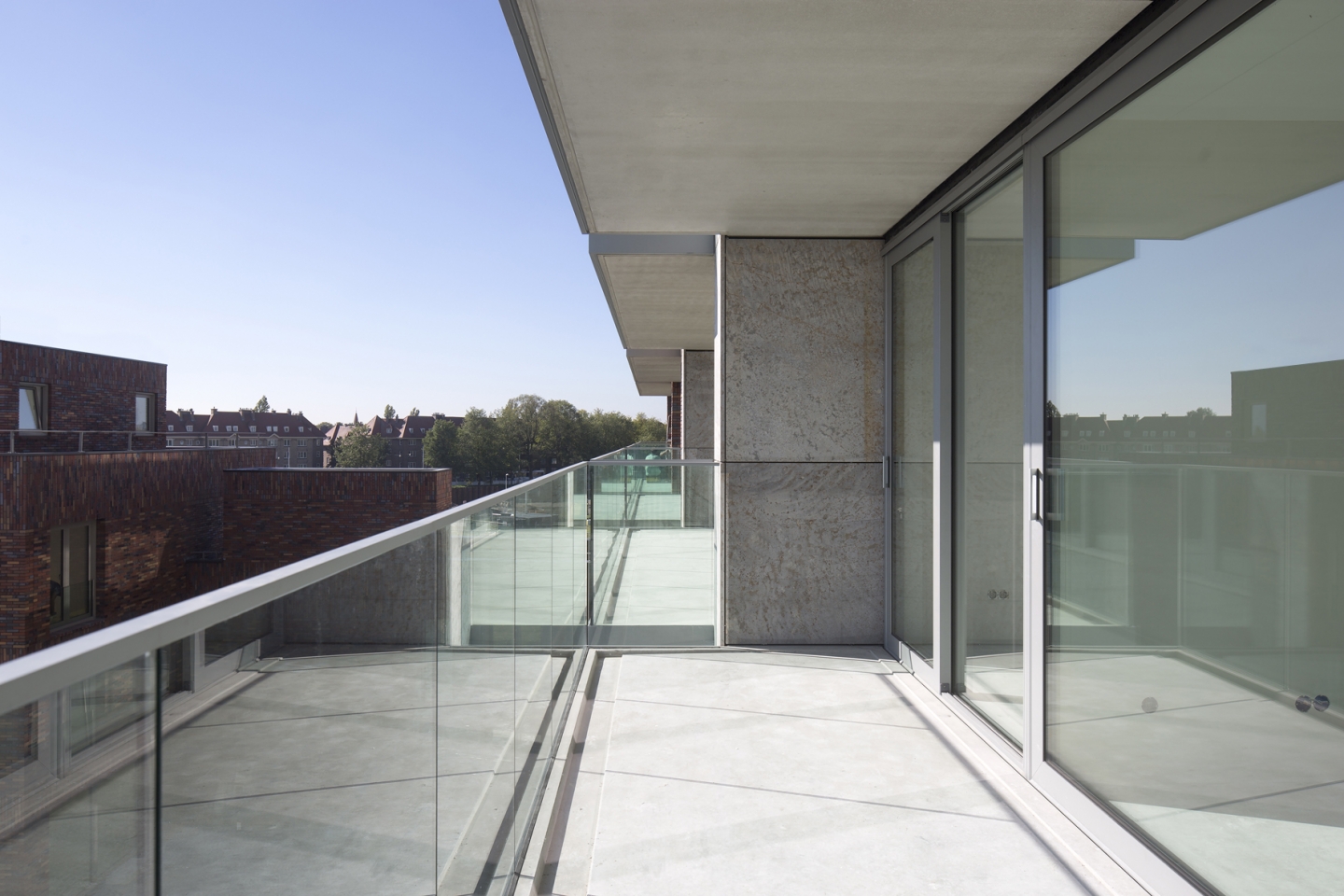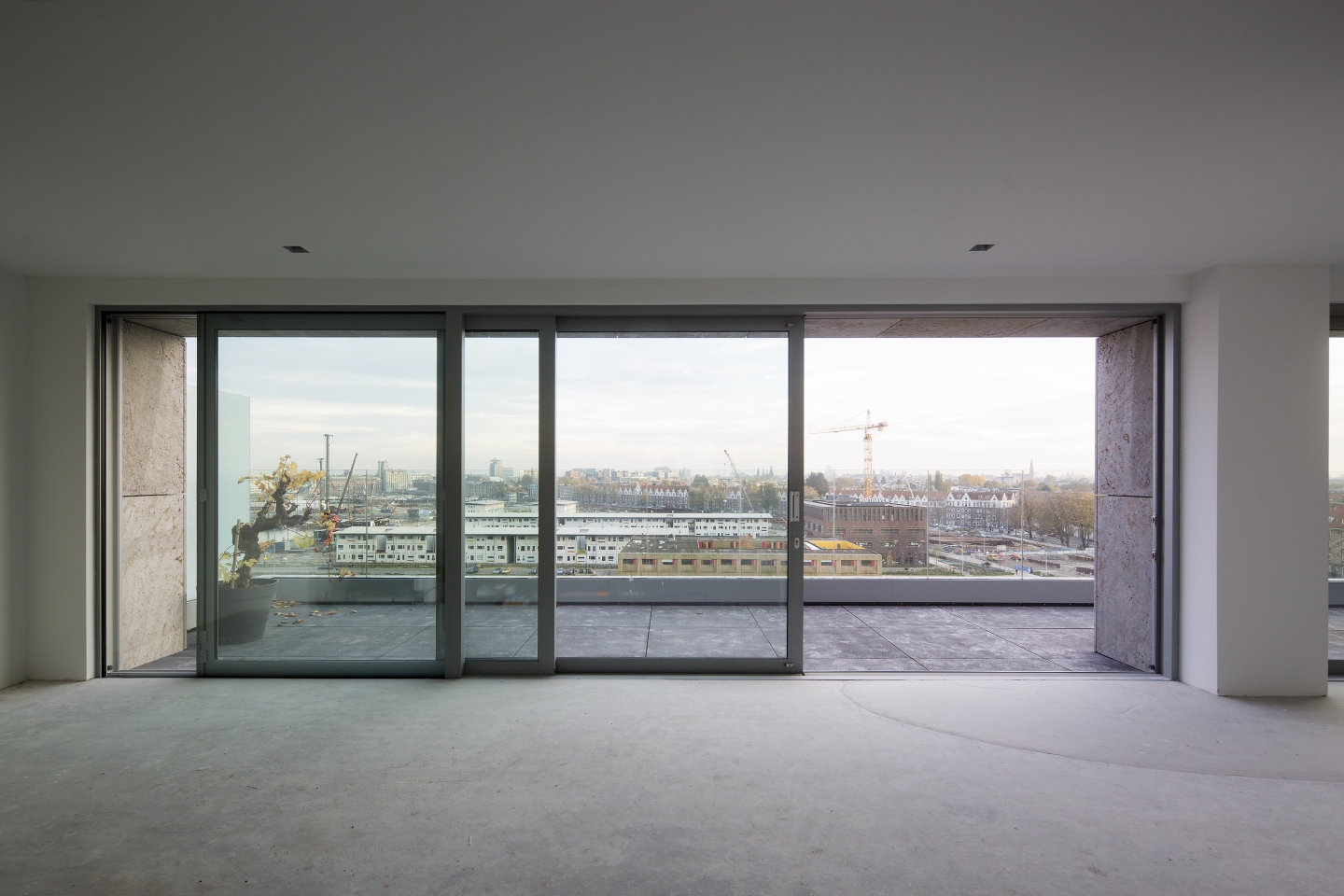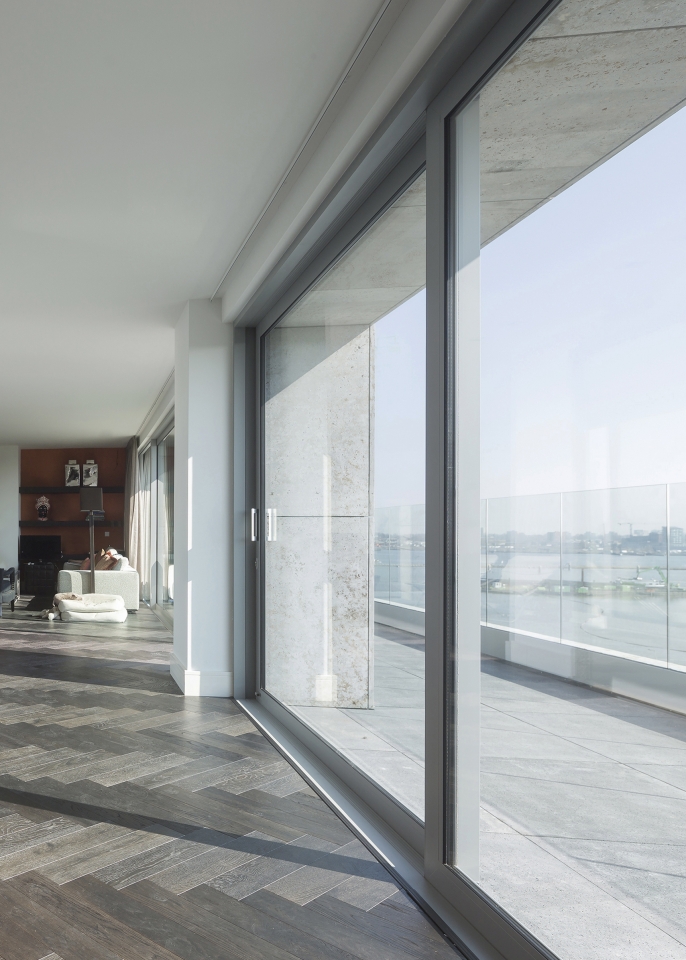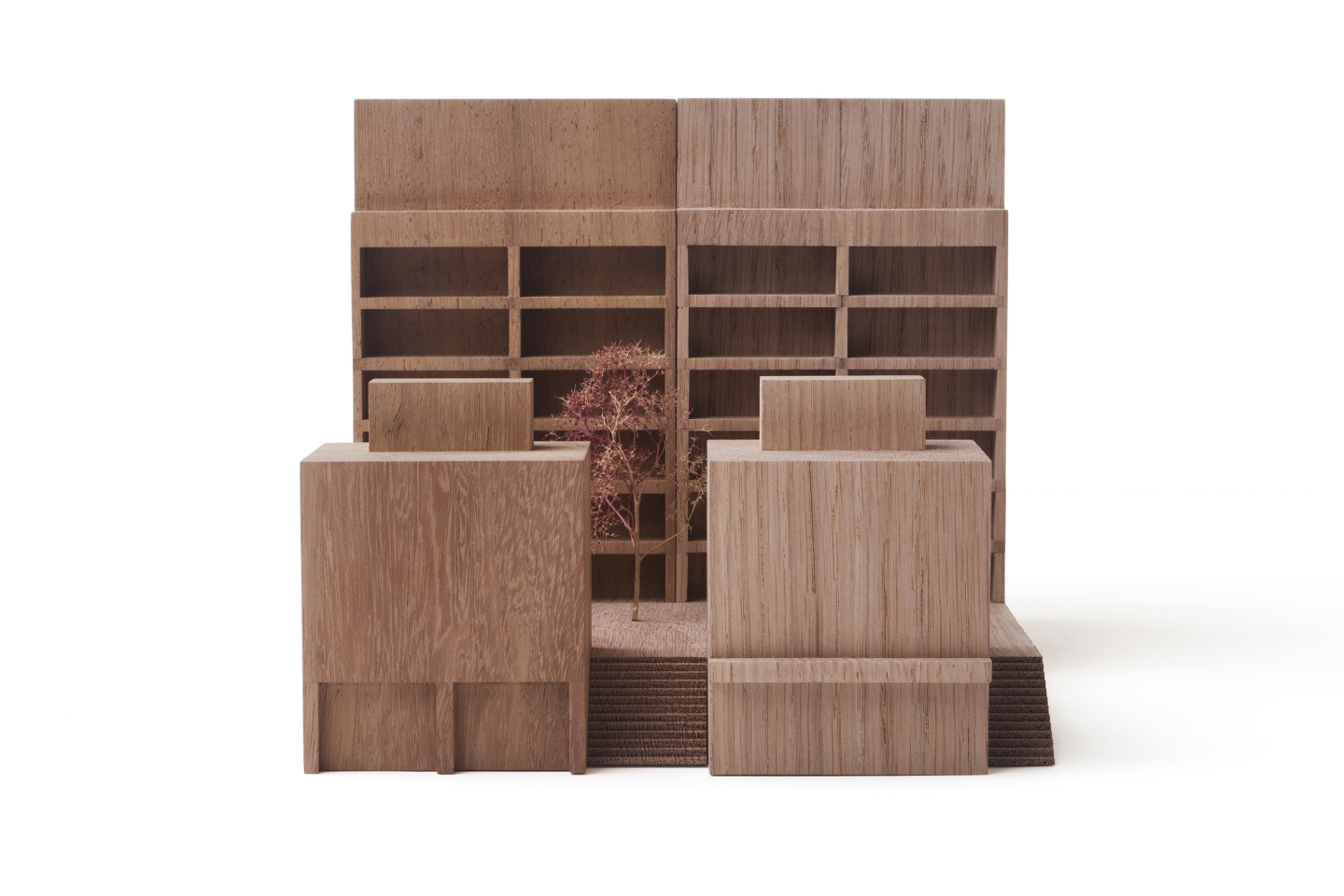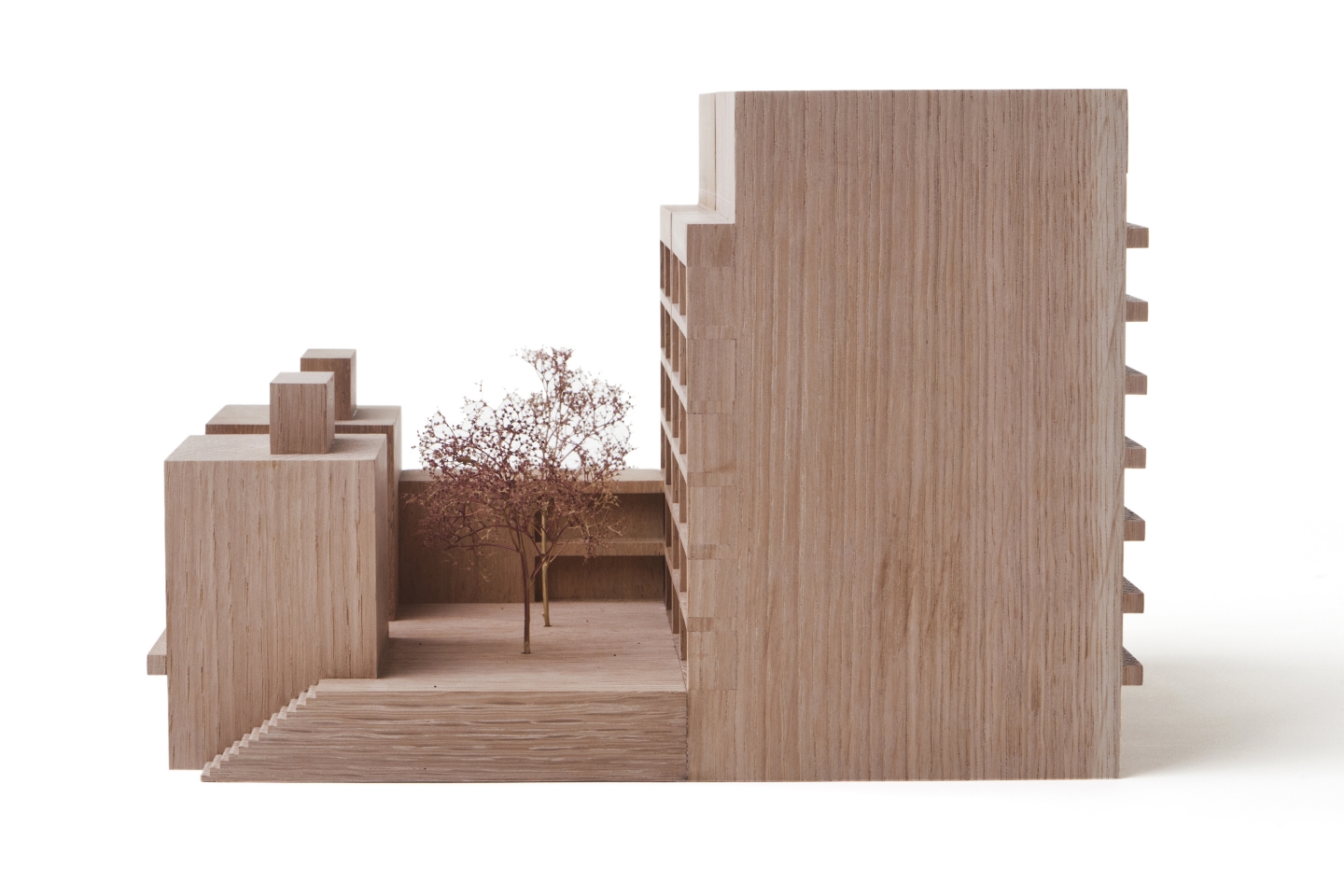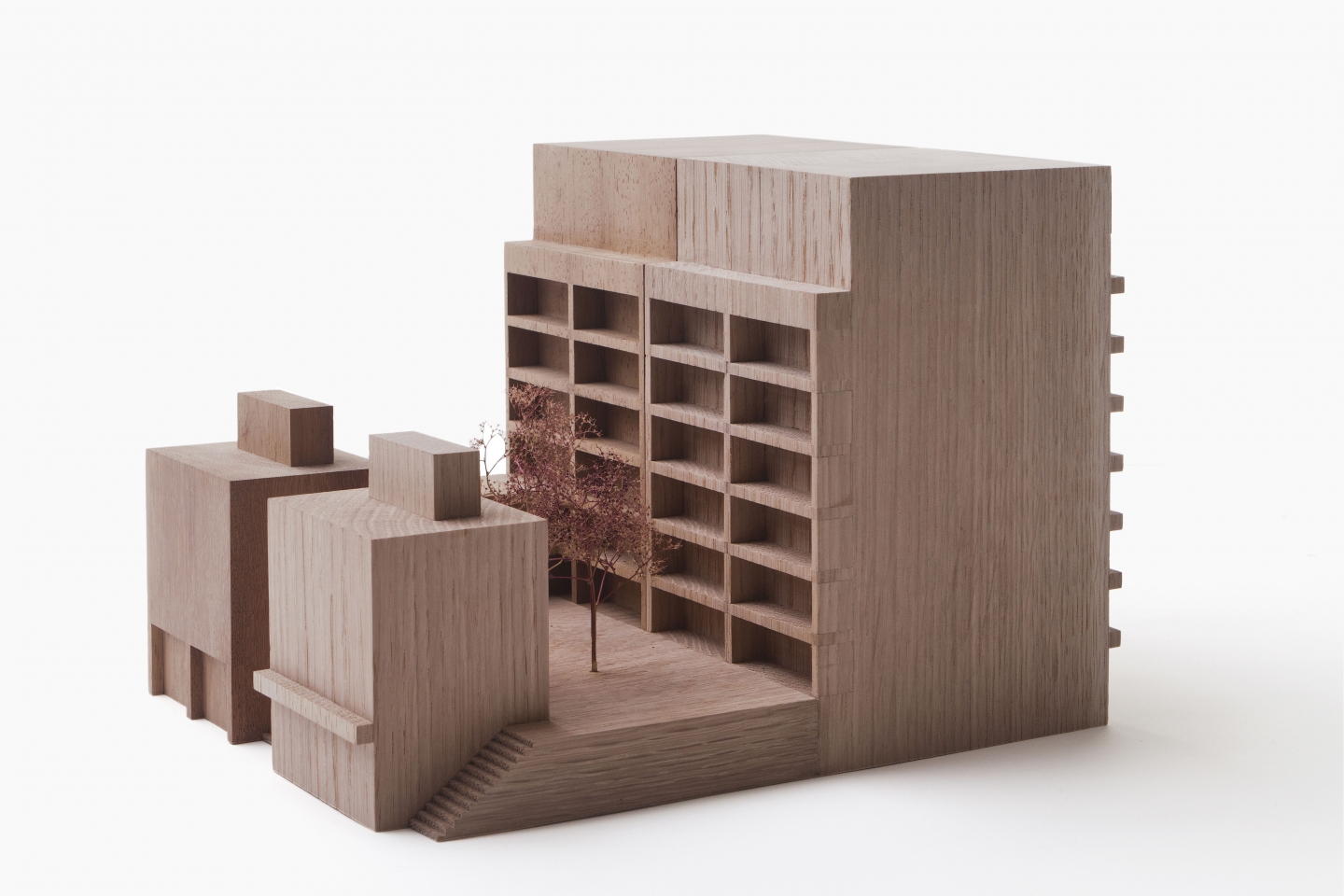 057 / HOUTHAVEN BLOK 0 / AMSTERDAM
The Houthaven in Amsterdam West is the final phase of the long-term development of the southern bank of the IJ river. With the realization of Blok 0, the first phase for the development of the Houthaven has began. This duplex residential complex occupies Lots 8 and 9 forms the southwestern end of this 'super block'. The complex consists of a 9-storey building section with apartments on the Haparandaweg and a 4- to 5-storey building section with quay houses on the (future) Houthavenkade.
The building parts enclose a semi-sunken, double-storey parking garage, topped by a collective roof garden. Due to the vastness and openness of its IJ location, as well as the industrial character of the port area, the choice fell to robust facade materials and no-nonsense detailing. The corner block is made of industrial extruded stone with a pronounced masonry grid. The adjacent central block is made of muschelkalk natural stone with cantilevered horizontal bands. On the city side, facade-filling aluminium sliding doors and balconies with tempered-glass balustrades offer an optimal view over the city and the IJ river.
Each with a private roof terrace, the quayside houses are oriented as much as possible to the street via floor-to-ceiling folding doors on the ground floor. Meanwhile, the roof garden features a variety of flowering trees, including almond trees, which are renown for both their blooms and their silhouettes. This communal courtyard is accessible from the adjacent houses, as well as from the Houthavenkade via a wide staircase. The courtyard also works as a link to the green courtyards of the monumental building blocks in the adjacent neighbourhood Spaarndammerbuurt.
_
Houthaven Blok 0 is included in the Yearbook Architecture in the Netherlands 2015/2016.
Project data
Duplex apartment building blok 0
Houthaven, Amsterdam
Design–execution
2012–2015
Program
27 apartments, 5 quay houses, collective courtyard and parking
Gross floor area
6.762 m2
Project team  
Marcel Lok, Freddy Koelemeijer, Coen Smit, Niels Westmeijer, Nadine der Kinderen
Client  
Building4you Developments
Contractor
Vink Bouw
Structural engineer
Pieters Bouwtechniek
Building physics advisor
S&W consultancy
Project address
Haparandaweg 650-706, Houthavenkade 5-13, Amsterdam
Model
Ernst Dullemond
Photography
Luuk Kramer, Tim Stet (model)